Chiropractic Physician
Dr. Scott Saario
I consider it a great blessing and immense responsibility to serve Cabarrus County as a Chiropractic Physician. As the Clinic Director of ChiroCabarrus I have made it our mission to make this community a healthier and better place to live.
I was raised in Silverdale, WA which is a small city near Seattle.
Growing up in a close knit town helped me to realize how important it is to contribute and serve your community. After high school I relocated to Temple Terrace, FL where I attended a small Christian college for two years. After graduating with my Associate of Arts degree, I continued my education focusing on biology and received my Bachelor of Science degree from the University of the State of New York. Moved to help others, I pursued a career in health care and graduated Cum Laude from Palmer College of Chiropractic in 2009.
It is now my purpose and passion to serve as many suffering and unwell people as I can. It's not an easy task, but it is our mission to change the physical, relational and spiritual health of our community through holistic medicine, health education, community service, philanthropic outreach and prayer.
ChiroCabarrus is determined to be a strong influence for positive change not only for our patients but for our entire community. The health of a community is a reflection of its citizens and it is important to me to do whatever it takes to make this a strong and healthy place to work and live.
My love of athletic competition has motivated me to accumulate extensive post graduate experience in the study of human movement science and biomechanical analytics. Specializing in sports biomechanics is a true passion of mine, not only to help athletes avoid injuries but in helping them to reach levels of performance that would otherwise be unattainable.
In my personal time, I love spending time with my wife Melissa and my three boys, Liam, Oliver and Griffin who make me realize how truly blessed I am. I also focus on teaching and serving in our local church and enjoy CrossFit competition and coaching.
Practice Manager
Melissa Saario
I was born and raised in the Midwest and grew up seeing and appreciating the benefits of chiropractic. With my late grandfather and father as chiropractors, I have been able to witness the amazing capabilities of the human body and its natural recuperative abilities. Following high school I studied in Tampa, FL where I met Scott at Florida College.
I continued my education at Daytona State College and completed my nursing degree. I have worked for several years in the Neuro-Intensive Care Unit with Carolinas Medical Center's main campus and for Novant Health staffing all the Intensive Care Units in three different locations. Throughout my nursing career I have seen the devastation of chronic disease due to a lack of health maintenance. Our desire to make Cabarrus County a healthier place motivated us to open this clinic and it is our mission to provide a place in this community for people to heal and pursue health. Outside of our practice, I home school my three boys and tutor a weekly homeschool co-op class. I love running and CrossFit. My faith in Jesus Christ is the basis for all my activities.
front office manager & certified clinical chiropractic assistant
Heather
Moving from Northeast Ohio to Charlotte in 2016, with my husband and 2 children, was an exciting change for all of us. I spent my entire life in the cloudy and cold rust-belt, and am loving the warm sunny days and short winters we have found here in our new home. I have been enjoying the benefits of Chiropractic care for many years. Even back in Ohio, I always found that I felt my best when visits to my Chiropractor were part of my routine. I never thought that I would get to be a part of it.
I had been coming to ChiroCabarrus a couple years in 2020 when I was in for an adjustment, Dr. Scott & Melissa mentioned that they were looking for a Chiropractic Assistant for the office. They did not know that I was previously a Medical Assistant in Ohio, and I told them I would be interested in joining their team. They loved the idea too, and so I earned my NC Chiropractic Certifications, and I am loving being a part of the team at ChiroCabarrus who gets to help patients every day. There's just nothing better than being a part of helping someone feel better! One of the best things about working at ChiroCabarrus is how Scott and Melissa genuinely care for their patients, and their employees. Their values are my values, and it's so refreshing to be so in sync. It's a perfect fit. These days I split time in the office as a Chiropractic Assistant, and also the Office Manager. The work is fast paced, and I like that.
In my spare time we volunteer often with our local church. I also love riding my horse Topper, and doing some shows on the weekends. I have also started classes in martial arts, which is hard, but also fun!
certified clinical chiropractic assistant
Chiara
I am originally from Winston-Salem, North Carolina and moved to Huntersville in 2018 to be with my then fiancé, now husband. I recently got married on October 10, 2020! I am a certified Chiropractic Clinical Assistant and I am currently going to school for my RN-BSN specializing in Critical Care. I feel incredibly blessed to work at ChiroCabarrus with Dr. Saario, Melissa and the rest of our team.
For anyone who works in healthcare, the career comes with a strong desire to help people and it takes unmeasurable strength and compassion, which is what you experience every second you are at ChiroCabarrus. It is inspiring to work in a faith based office and to see how many lives we touch every day, not just physically but spiritually!
When I am not working at ChiroCabarrus or studying for school, you can find me riding and showing horses throughout the southeast, exploring new places with my husband and two dogs while stopping at breweries along the way or listening to live music on any given weekend! Fun fact about me; I am the youngest of six kids in a big, loud Italian family!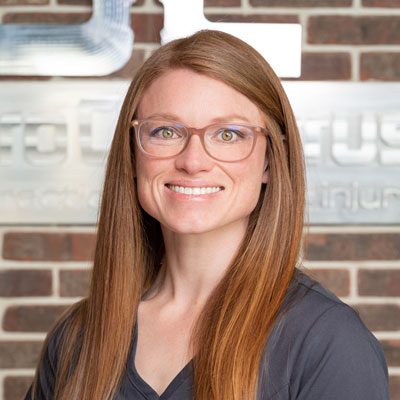 chiropractic assistant
Danyel
In 2018, my husband and I moved to Concord from Montgomery, Alabama with our four amazing boys. Even though it was a much-needed change, we were really missing our family, friends, farm, and CrossFit community. We wasted no time joining CrossFit Vitality and began introducing familiar activities little by little.
Shortly after joining the CrossFit community here I knew it was time to find a chiropractic office to get my family and myself back on track with maintenance visits. ChiroCabarrus, located in the same facility as our gym, was the perfect fit for our family. Through both CrossFit and our church community, my family has grown closer with Dr. Scott, Melissa and their boys. It is a blessing to have Scott and Melissa be a part of our health journey both physically and spiritually.
Health and wellness have not always been a part of my life. After our move back to the states from our time as missionaries in Cusco, Peru, I quickly learned that not only is chiropractic care, healthy food choices, and exercise so important for my mind and body, it also plays a huge role in the wellness of my family and friends. Without these things, my daily life of farming, homeschooling my four boys, gardening, running, and lifting would not be so enjoyable. Joining the team at ChiroCabarrus has been a wonderful way to pay it forward and help support others who are on their own personal health journey. I look forward to working with this amazing team and doing our small part in helping you become the best version of you that you can be!!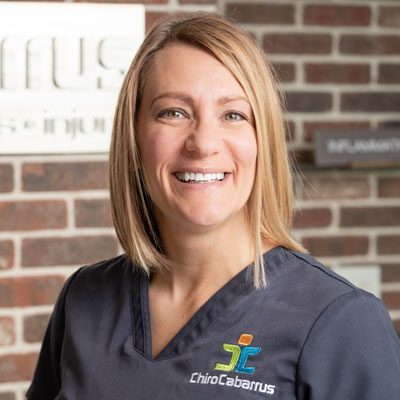 chiropractic assistant
Kindra
I love that I get to be a part of a patient's health and wellness. I grew up in Kalamazoo, Michigan.  I went to law school in Lansing, MI and married my best friend Daniel.  In 2009, we moved to Charlotte, NC, where I practiced law and had two beautiful children.
Up to this point I had never been to a chiropractor.  My husband and I joined a Crossfit gym and wanted to take our health more serious.  With the busyness of the kid's sports and life in general, I decided to spend more time with the family and stopped practicing law.  I always want to be a witness for Christ and let the results be God's.  I'm so glad I could stay home with the kids and be very active in my church.  Around the same time, I started going to ChiroCabarrus and loved how much better I felt.   I am so blessed to say that I am now able to work in a place I love-ChiroCabarrus.   My work as a chiropractic assistant to promote health and wellness is very rewarding. I am so glad my whole family can be a small part of better wellness.
Monday
8:00am - 6:00pm

---
Tuesday
8:30am - 11:30am
---
Wednesday
8:00am - 6:00pm
---
Thursday
Closed
---
Friday
8:00am - 6:00pm
---
Saturday
Closed